Too often, brands view social media as a commodity…
another marketing channel that costs too much to outsource and takes too much time to do in house. Hard to keep up with and harder to know whether you're making any significant impact.
Those using social channels to their full advantage understand a few basic but often overlooked business objectives that social media can help to mature.
For instance, start-ups of all sizes use social media to build buzz, test audience acceptance and project the success of their businesses long before spending time and/or money to develop the actual product and brand.
What value does Social Media bring to your bottom line?
But for as many brands (large and small) that are killing it with their social presence, countless more are unaware of the positive effects that a solid social media strategy can have on their branding and business goals. Businesses know they need to be active with their social media accounts, but to what extent? What value does the medium bring to your brand's bottom line?
For the purpose of this article, we'll focus on 4 simple ways to grow your brand through social media. And for the record, your branding and business objectives should heavily cross paths.
Grow your brand through social media by following these 4 basic principles.
1) Define Your Brand Voice
Defining your brand's tone of voice can be challenging whether you've been established for 2 weeks, 2 years or 2 decades, but the work put in up front can pay dividends down the road.
Simply put, a tone of voice isn't what you say, but how you say it. Voice is not a statistic you can track or a design element you can tweak. It goes deeper than that. Truth is, your brand voice stems from your company and culture. It's inherent to every employee within your organization. So if it already exists, why spend the time defining your brand tone of voice?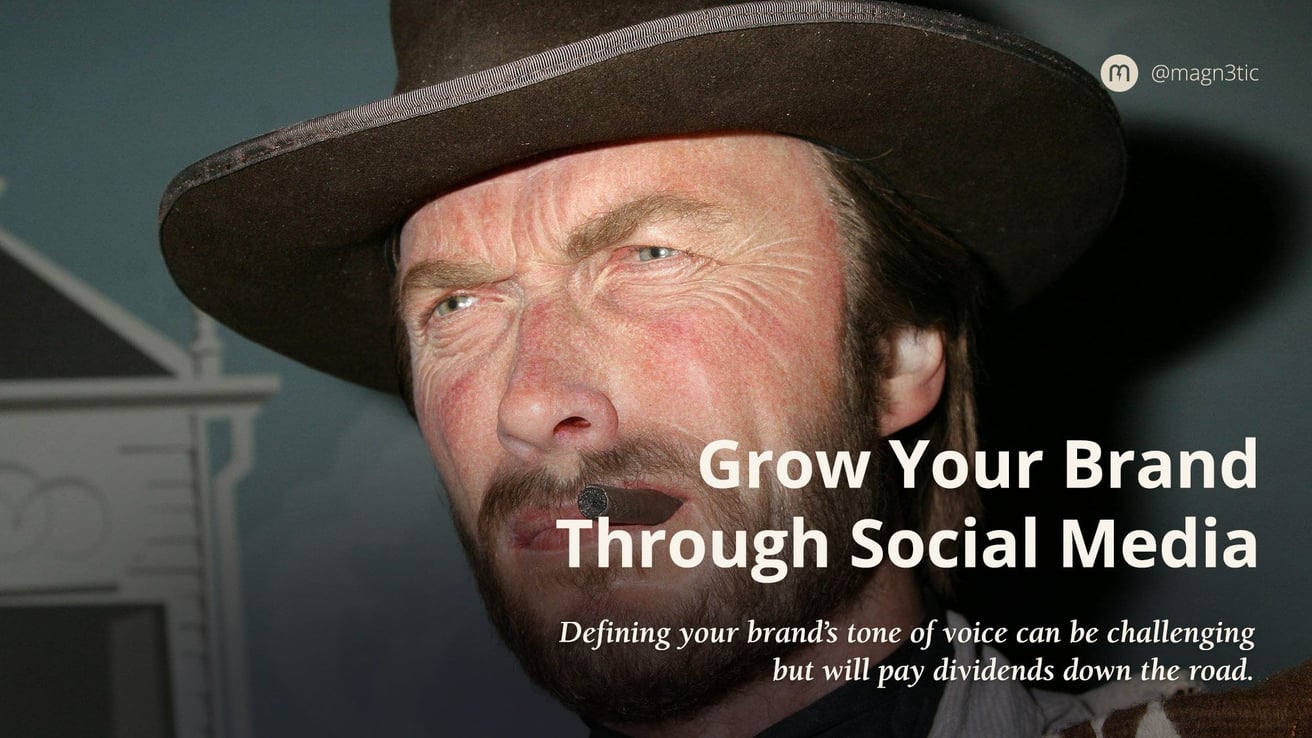 Think of it this way: would Dirty Harry be anywhere near as memorable if his script was flipped?
"Ponder this: Am I feeling opportunistic this sunny afternoon? Well, you dastardly foe, do you?"
That's a far cry from, "Do I feel lucky? Well, do ya, punk?"
The beauty of a brand tone of voice is that it conveys personality without grandstanding. It places a human element on an otherwise non-human entity. In a country where the average person encounters as many as 5000 ads a day, a compelling tone of voice helps people to lower their blinders and open their minds.
The concept is far more organic than other optimization strategies. The more concisely you can communicate your brand's tone, the easier it becomes to create lasting impressions that lead to loyalty and advocacy.
Pro Tip:
Creating a Brand Persona can help your organization understand and embody your own brand voice. Moreover, it can be a filter for your social media manager to work through when developing content.
2) Document Situational Use Cases for Your Brand Voice in Social Media
Effectively branding your social media channels requires conversational consistency. The trick is retaining consistency through all types of conversation.
How should your brand voice and tone be received during customer complaints? How does this differ from customer praise, recommendation or mockery? Does your brand speak in first person or a collective voice or both? And under what circumstances?
Whether your social community management team consists of 1 or 20, showing up to the game with a consistent response pattern is key. None of this is meant to take the 'social' out of social media.
In the end, the human factor should remain in tact, but having a few boilerplate examples ready for your team will help them understand the voice and tone they should strive for.
Pro Tip:
Documenting situational brand voice usage allows your community management team to scale more efficiently. Let this be a living document that can change and mature along with your brand.
3) Actively Seek Out Social Conversations
This should be a given: Conversations are taking place about your brand. Find them, assess the need to join them and put your best foot forward when you do.
Tools like Twitter, Yelp, Google Alerts or LinkedIn search are a great place to start. You can extend your efforts by using tools like MOZ Pro Fresh Web Explorer and Mention to elevate efficacy.
More and more, we're seeing people turn to forums, blogs and non-branded social interactions to find the help they need, and it's easy to see why. People trust the advice of peers more than they trust the claims of brands.
Does that mean you should leave the conversations alone until you're invited? Not exactly.
Using your brand tone of voice, you can actively engage your audience on virtually any platform and create a positive interaction. Just be mindful that you're treading into their territory, so be courteous, be respectful and make it worthwhile.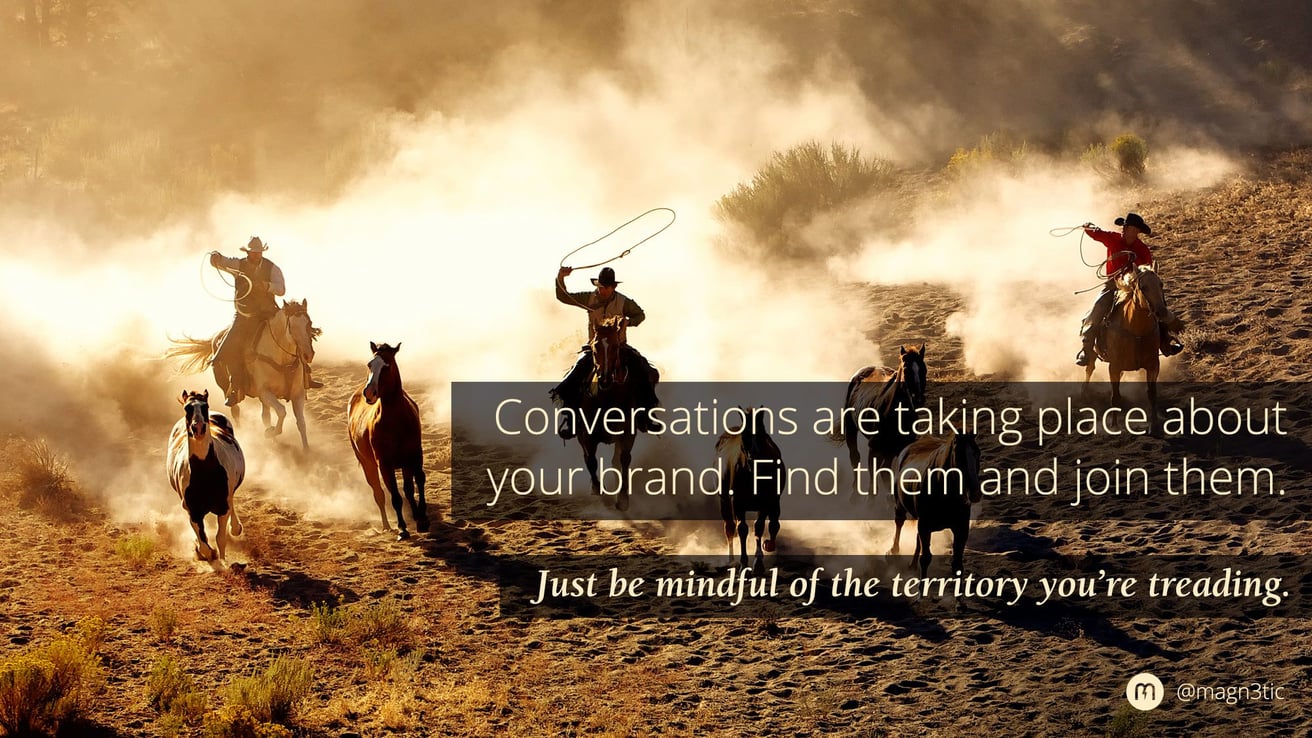 Implement a process for actively seeking these social conversations and how to proactively engage with your audience. Assign key personnel with the responsibility of daily search and reconnaissance. Draw on lessons from your situational use cases to make sure you show up to the party in the correct social attire. And most importantly, document your conversations.
Pro Tip:
Using tools like Sprout Social, Hootsuite and Spring Metrics will help delegate roles and responsibilities between your community management teams.
Haters gonna hate. Greet them with a big 'ole social hug.
If there's one thing you're sure to run into online, it's haters. Potential problems with your product or service may arise in social conversations that you would have been oblivious to unless they were major problems. Catching negative buzz early can be a monumental learning experience for you and your brand. Thanks to the two-way dialogue of social media, your audience can help you to course correct and mature your brand perception before the conversation gets out of control.
4) Become An Outstanding Listener
Take what you've learned in #1, #2 & #3… and listen. Don't just listen, document.
Look for patterns and learn from them. Carry an open mind, address your followers promptly, and involve them with your solution. This simple act works wonders for maturing your brand and building brand advocates.
When someone… anyone… whether an employee, a customer or a potential customer feels like they've actively contributed to a solution, they feel pride and ownership in your brand.
Pro Tip:
Proper attribution can help to turn first-time customers into long-time advocates. Look for ways to give credit and recognition to your fans for their contributions–no matter how large or small.
Social media, like all marketing channels, is a utility. But unlike other channels, social media is a much louder microphone that points in both directions. When you're the next Coca-Cola or Taco Bell or Local Taco Shop watching your brand flourish from a strong social media strategy, don't forget these 4 simple ways to grow your brand through social media.
We're not claiming it's easy or clean, but growing up rarely is.
If any of this feels foreign to you or your brand (or just overwhelming), give us a shout. We're always happy to help.