The Vision for Shopify Partners and the Future of Commerce
Like most conferences, Shopify UNITE began with a keynote. Shopify Partners heard from the CEO and founder @tobi. He shared a very hopeful and well-thought-out message regarding the future of commerce – a future where commerce becomes more decentralized and more accessible to anyone, anywhere, who wants to be an entrepreneur. That's a noble cause, and it was said that…
"The future of commerce as we envision it has more voices, not fewer."
A Partner Community Creating eCommerce Opportunity Together
We see it the same way – there are undeniable benefits to allowing more people to run their own retail businesses. More diversity in types of product, quality, service + support, and overall buying experience just makes sense. After all, the needs and wants of shoppers are diverse and ever-expanding. The big-box superstores will serve their purposes (lower costs), but they will not monopolize online shopping.
Check out this supporting video from Shopify Unite 2018.
Building a Stronger Community and eCommerce Platform together
Shopify's core philosophies, the ideas the platform was built-on, are the reason they've seen success and the reason Shopify Partners like us recommend it as the preferred eCommerce platform. From the beginning, they knew that they could not do it alone – the platform would need to be an ecosystem that allowed their developer partners to fulfill niche needs for their merchants. In the words of their VP of Product…
We want to create more value for our partners than we capture for ourselves.
Creating more Opportunity for Shopify Partners and Merchants
Their product is proof of this – and it shows in the way that they open their platform to developers, and maintain open-source libraries. It looks like Shopify isn't slowing down and there are tons of amazing changes coming this year – for merchants, partners, and developers.
New Features & Opportunities For Merchants
Multi-Language Admin Dashboard – Shopify will be available in French, Spanish, Portuguese, Italian, German, and Japanese sometime this year – a huge update that is sure to attract more merchants and spark even more growth.
Location Specific Inventory – an often-requested feature for merchants, stores will be able to associate inventory with locations. The basic Shopify plan will support up to six different locations.
Shopify Fraud Protect – Shopify will handle fraudulent chargeback disputes, freeing up merchant's time for other things. You can sign up to be notified of when this feature officially lands.
The Ping App – a mobile app that will aggregate customer conversations, and serve as a virtual assistant to merchants with the help of Kit (acquired by Shopify). Have Shopify notify you when the Ping app is released.
Brand New App Store – https://apps.shopify.com/ will be getting a visual refresh, and more importantly a new intuitive classification system and underlying recommendation engine. It's focus is to help merchants find the right app for their business at the right time.
Expert Services Marketplace – built into the Shopify admin, merchants will be able to browse experts to help with their specific needs. The marketplace will facilitate project communication and the billing/transaction mechanics.
That's a lot to look forward to.
A commitment to meeting the needs of merchants and developers
The platform updates illustrate Shopify's deep commitment to meeting needs of their merchants while also providing opportunities to app developers to fill in the nearly infinite swath of niche store needs. As Shopify Partners, we see these new features as clear opportunities for merchants large and small and for agencies, like us, to continually push the limits of possibility in design, development, and marketing.
New Opportunities For App Developers
GraphQL Admin API – Shopify's REST API will still be supported, but they're now (and have been over that last year or so) offering a GraphQL implementation to developers. This will help make apps more reliable and efficient, as many chained/nested REST API calls can often be replaced by a single GraphQL call.
Embedded App SDK Improvements – about a year ago, Shopify began releasing libraries that allow developers to build apps that merchants can use directly from the Shopify admin. The newer EASDK will incorporate Redux (a popular library/concept for managing application state), which will allow developers to use Redux dev tools for debugging portions of their applications.
Polaris Continues to Grow and Improve – Shopify's UI component library for React (Polaris) has improved documentation and will inherit EASDK updates since it is one of its dependencies. It will also make new and upgraded components available in v2, and you can track progress on the project's status page.
Kit Skills API – this will be a huge opportunity for app developers. The details are a bit vague, but there will be a way to create kit skills from your Shopify app's management dashboard. Some existing apps have built kit skills for their products, but this feature will open up to all app developers later this year.
We've been continually impressed with the overall high-quality developer experience that Shopify offers. They seem to be head-and-shoulders above their contemporaries in this regard, and the flexibility they offer developers ultimately lead to better merchant experiences.
The Prime-Minister Dropped By 🇨🇦
A surprise guest visited the Shopify Partners at UNITE 2018 – Canada's Prime Minister Justin Treadaux. He chatted with Shopify's CEO Tobi Lütke and TV Host Amber Mac about the amazing success Shopify has had and how Canada's diverse and open culture helps businesses thrive.
Check out the entire conversation
Huge Thanks to the Shopify Partners Team
Here at Magnetic, we were fortunate (and hard-working 😉) enough to receive a Shopify Commerce Award for Best Copywriting. Shopify's prize for award-winners was a free ticket to the event, hotel stay, and travel reimbursement – we were psyched, to say the least!
The winning project was a website we built for Nexgrill It was a pleasure for me as the developer to work alongside our talented team. We've been managing the Nexgrill brand as Agency of Record.
The website we designed and developed on the Shopify platform is a great illustration of a brand coming together online. You can see the effects of a great brand strategy influencing the web design. You see how the photography & videography combined with 3D product-renderings & detailed copywriting pull the whole story together. I'm proud our company brings all these skills under one roof. We offer our clients a seamless brand experience that spans across the digital & physical world.
Actually, while I was attending UNITE, some of my colleagues were bringing the trade-show booth designs for Nexgrill to life at the National Hardware Show in Las Vegas – take a peek at how it came together: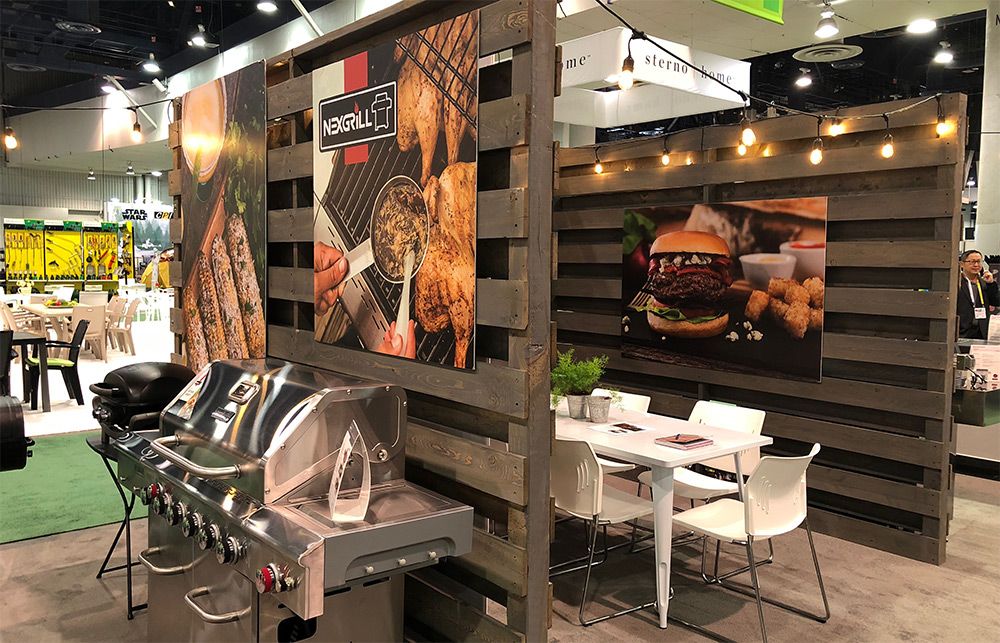 Related Reading:
Tradeshow Engagement – Showroom Do's and Dont's
Excited to continue our Partnership with Shopify
To sum it all up, Shopify sets the bar for quality in commerce platforms. The experience at UNITE exceeded my expectations. I left the conference grateful to be a part of this industry (agencies, dev shops, theme authors, etc..) as a whole. From Shopify Partners and developers to merchants and marketers, people have exciting problems to solve and our toolkit keeps growing and improving. Here's to everyone's success in solving them to the best of their abilities! 🍻
Looking forward to UNITE 2019!