The Role of Organic Social Media in Growth Marketing
Lately there's been a lot of discussion and debate around the degree of importance and value that organic social media brings to a brand's overall growth marketing strategy. From internal conversations with coworkers, and even inquiries from clients -- the relevancy of organic feeds in today's social landscape seems to be up for debate.
As someone who operates in the media trenches day in and day out, I'd like to share some insight into my view on the issue and where and when organic social media can be a driver for brand growth.
Your Virtual Shop Window
Think of organic social as your virtual shop window.
It typically serves as the initial visual impression a prospective customer will have of your brand through organic research.
Your social posts provide a visual hook that should entice someone scrolling your feed to eventually engage in some form of conversion.
This might be as simple as liking a post, following the page, or a link click.
Now what goes on inside the store, behind the counter and in the storeroom represents the full scope of your media and growth marketing campaigns.
What If I Don't Have A Physical Product?
This is a question we deal with a lot for brands that don't have a typical eComm oriented physical product.
So when you don't have an actual product to post images and features/benefits of...what are you supposed to post about, and should you even bother?
The answer is thought leadership, and you bet your ass!
Building Brand Authority Through Thought Leadership
If you don't have a traditional product to promote - and even if you do, a great content strategy for organic social is thought leadership.
Brands that can quickly establish themselves as thought leaders in their industry and masters of their product/service have a much higher likelihood of grabbing a page visitor's attention and earning a visit to their website.
When coming up with post topics, here are some questions to ask yourself:
What can I teach someone about our product/service?
How can I convey our brand's value?
What sets us apart from our competitors?
Why are YOU the authority in your industry?
What are the defining characteristics of your brand?
Another source of inspiration for your organic social content (that also saves time) is repurposing web content.
Whether it be existing blog posts, articles, or even brand videos - turning existing content into social posts is a time-saving and cost effective way to easily create social media content.
Creating content that provides value to a prospective customer of your brand is the goal, and doing so will increase follow rates and visits to your site.
On the other hand, filler content like 'National Days' and unrelated content tend to have the opposite effect. Here are the top 4 reasons consumers unfollow a brand on social - according to Sprout: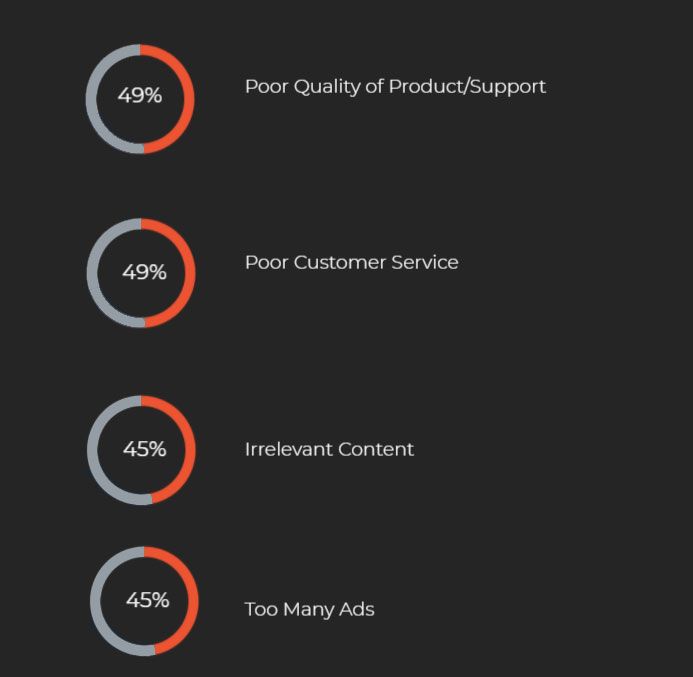 Establishing A Visual Identity
It should come as no surprise that the first impression a visitor has of your social feeds is visual.
To that end, having a feed that presents a cohesive and eye-catching visual identity is essential in crafting an organic social presence that will help build brand awareness.
Need some help getting started?
Our design team put together 12 professionally designed Instagram Templates that are free to use, all we ask is you drop us an email - and the templates are yours.
There are some simple post formatting issues that we often see inexperienced brands make that can be easily avoided.
Some things to keep in mind for posting on Instagram:
To avoid clipping or awkward cropping, images should be formatted in a 1:1 ratio (ideal dimensions are 1080x1080)
Videos longer than :60 have to be posted as IGTV posts
There are 3 aspect ratios you can format Instagram videos into

1:1 (Square)
4:5 (Vertical)
16:9 (Horizontal)

Stories are a great way to share in the moment updates, User
Generated Content (UGC), and giveaways
The "swipe-up" feature on Stories becomes available upon reaching 10k followers on a business profile
Quick Tip:
Want to easily boost your post engagement rates? Start posting image carousels instead of a single image! Carousel posts see a 21% increase in engagement rates over single images!

(Hootsuite)
RELATED READING:
4 Steps to Grow Your Brand through Social Media
Community Management & User Generated Content
Organic social still remains one of the best ways to build a community around your brand, and to provide direct customer support via direct messages.
Community management is a critical, yet often dreaded aspect of an effective social media strategy. The ability to pull frustrated customers off a public comment section and into a private message helps avoid inflammatory comments and potential brand degradation.
On the flip side, community management can also provide opportunities for many positive brand interactions and lead to the growth of your brand's community and page engagements.
Encouraging your followers to engage with your brand by way of user generated content is a great way to bolster your content pipeline (at zero cost!) and show your followers that you appreciate their support.
Who doesn't love a quick ego boost from their favorite brand reposting a video you tagged them in while using their product?
Tried & True Methods for Fostering UGC
Add a section of copy to all your posts encouraging your followers to tag your brand in any posts using your products
Develop custom branded hashtags that can be used in posts that are unique to your brand

This allows you to periodically search on Instagram or Facebook for that hashtag, which will show you any posts that have your hashtag in the copy
These hashtag 'banks' essentially serve as a source of UGC that you can pull from to repost on your brand feeds or stories

Giveaways & Promotions

To expand on the branded hashtags concept - creating hashtags for limited time promotions can help you easily gather and share any UGC that is created as part of the promotion

Sharing UGC!

This might seem obvious...but the more you share the posts your fans tag you in, the more people will think to tag you!
The Benefits of Different Platforms: Where Should You Focus?
Facebook: Maximum Reach
At 2.74 billion monthly users Facebook is still by far the largest social network on the planet, with 68% of American adults using the platform.
If your goal is to build as large of a following as possible, and reach an older, worldwide audience - Facebook is the right platform to invest most of our time into.
Facebook is also a great outlet for local businesses, as 66% of Facebook users visit a local business page at least once a week, according to Hootsuite.
Instagram: Community & Product Sales + Stories/Reels + Partnerships
When it comes to eCommerce and user generated content, Instagram is king. Nearly 81% of Instagram users report using the platform to research products and services (Hootsuite).
With the ability to directly integrate your products into your profile, the shopping experience on Instagram is nearly seamless at this point. In just a few clicks or thumb presses, a post viewer can purchase a product without needing to do any extra work or even leave the app.
Instagram also remains the best platform for brand partnerships and influencer marketing, with many partnerships occurring through direct outreach via messaging & post interaction.
RELATED READING:
Twitter: Engagement & Communication
Twitter is a different beast from FB & IG in that to take full advantage of the platform it really requires a dedicated community manager.
Unlike Facebook and Instagram, Twitter is built around in-the-moment interactions on trending topics and live updates.
Typical post scheduling and monthly planners aren't the call with Twitter.
For most brands, if you don't have the person or resources to manage a Twitter profile on a day-to-day basis, we recommend sticking to Facebook & Instagram.
LinkedIn: Company Updates & Recruitment
Linkedin is a great place to post longer-form content that establishes your brand as a thought leader in your industry. It can also serve as a platform for recruitment and talent acquisition, by way of job postings and company updates.
Tiktok: Gen Z Audience
The rapidly rising video platform, and Gen-Z phenomenon has seen a 576% growth in YoY since 2019.
Although TikTok has well established advertising options, organic posting strategies for brands is still in its infancy.
For brands that appeal to a younger (14-28) audience, and have talented "hip" content creators, the platform offers a unique opportunity for virality and catching onto emerging trends.
Interestingly, TikTok holds a 57% positive mention ranking across the internet - compared to just 27% for social media overall. This indicates that users are likely to also have a more positive perception of brands and the platform, and be more receptive to advertising.
Final Thoughts on the Role of Organic Social Media in Growth Marketing
It's no secret that organic social media has taken a back seat to paid advertising and content marketing in recent years. And while we can speak volumes about the pros of utilizing both, it seems as though people are forgetting just how important organic feeds still are for brands today.

In fact, according to research from HubSpot, not only do consumers trust companies more when they have an active presence on their social channels-- but having at least one post per day will increase your reach by 10%.

This is powerful stuff!

If you find yourself struggling with what type of posts should be created or where to spend time creating them - don't worry- our team would love to help get you started.

Drop us a line anytime and we'll be in touch!