Social Media and mobile phones have spun professional video creators on a total 180. Well, technically 90 degrees.
Here's why vertical video is dominating.
Have you been to a concert or a sports game recently? Bought a new phone? Have you scrolled through Facebook or jumped on the Snapchat train yet? I assume the answer is yes… to all questions except maybe the first… in which case you should ;)
Videos on social media have fundamentally changed the way masses engage with video online. You see it everywhere. Vertical video has become the dominant format and your brand should be incorporating it into its marketing mix. Planning to at the very least.
What is Vertical Video?
Vertical Video is taller than it is wide. Instead of being presented in a widescreen format, or Landscape Orientation… the way video has traditionally been intended by cinema and television… vertical video is rotated 90 degrees. Presented in a portrait video format instead of the intended landscape format.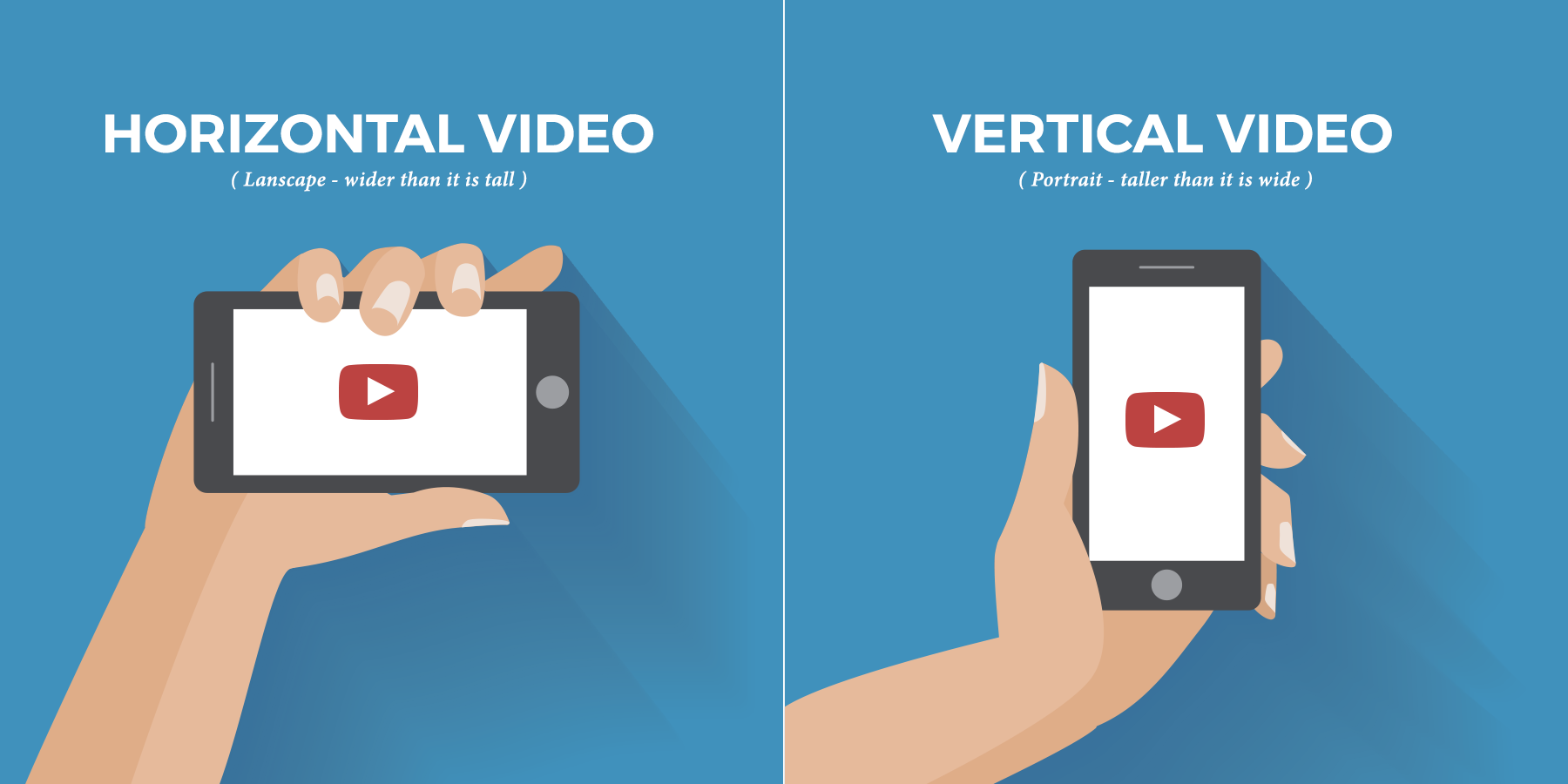 When you hold your phone upright and record video – it's in a 9:16 aspect ratio. Taller than it is wide. Hence the name… vertical video.
Ever wondered why your phone is the size and shape it is?
It's because if you hold your phone horizontally the viewable screen area is a 16:9 aspect ratio. The same standard used for most video production, HDTV and cinema screen sizes.
Vertical Video Syndrome is becoming a thing of the past
Vertical video formats have been frowned upon by people like us for quite some time.
Taking video with your phone upright used to be a running joke within our team. We couldn't stand seeing people do it because we knew what a headache it would be trying to edit the footage.
Times have changed, though. Largely thanks to videos on social media and apps like Snapchat. Vertical video syndrome has all but won.
Want to drive influence through video marketing? Find out how video can help you tell your story without speaking a word.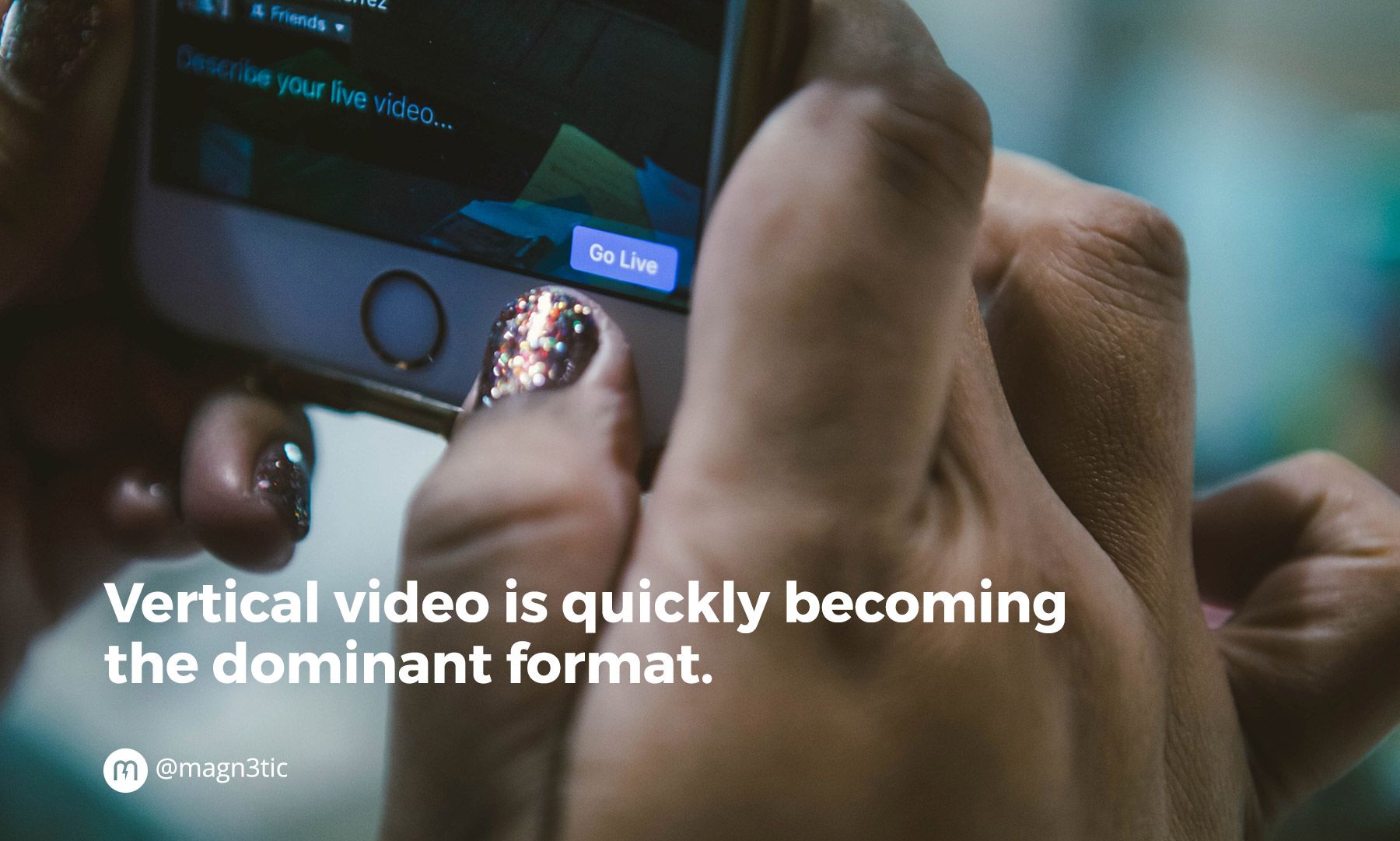 The logical evolution of video format
The evolution of vertical as dominant video format is logical.
When you use social media apps – let's take Facebook for instance – you scroll vertically through the news feed. When a video is presented and you choose to watch, you tap the video to isolate playback from the rest of your news feed.
If the video is presented in landscape orientation, you either watch a small version of it or rotate your phone to see it in detail. This rotation is an unnecessary step in the user experience. Also a good way to up the chances of dropping your phone.
Related Reading:
Content Marketing Workflow: An Agile Approach For Consistent Results
Go through this same experience but keep the video in portrait orientation and you've removed an arguably large step from the process.
You're presenting the content in it's native format and allowing for more real estate coverage in the content. Not to mention avoiding the phone drop ;)
Mobile Video Engagement Stats Specific to Format and Viewing Channel
Google recently ran some secret video ad engagement experiments. Well… they were secret… until Advertising Age got ahold of them.
Google tested pacing, video format and aspect ratio, difference of vertical to horizontal conversion, as well as captions and super captions.
The results were less than conclusive. To me at least. The tests (shown below) compare horizontally shot and formatted video to vertically shot video formatted for horizontal presentation.
Come on google… I know you own YouTube and everything. Let's level the playing field, though.
Even when Google (potentially biased) claims the horizontal video format won, it's only by 2%. We'll be conducting some format engagement research of our own… stand by.. or even better, subscribe.
Mobile Video Advertising – Which Format Rules?
Before we debate this topic too heavily, it's important to understand the last statement above. We cannot compare horizontal video ads to vertical videos placed within a horizontal format.
In order to debate whether vertical or horizontal video ad formats perform better, we need to have a level playing field. We'd need to run a true A/B test on the formats.
Running the same ad to the relative same audience at the same time with the same content in each format on the same platform. Maybe we'll be able to do this soon. But not today.
Instead, let's look at some trends in social media video, advertising, and platforms.
Related Reading:
Utilizing Emerging Media Channels: Twitch Advertising
Facebook Vertical Video Formats
Facebook claims over 8 billion video views per day. The past year was monumental in their fight to keep attention from YouTube.
YT isn't their only competition though.
In order to retain their hard earned social mogul status they've had to start adjusting the way they hold their phones when shooting video as well.
Facebook's been watching Snapchat closely and reacting quickly to changes in vertical video engagement rates. To help transition to a mobile video first social platform, they've standardized the 2:3 aspect ratio as apposed to the 1:1 square format. This change allows video to fill more of the users phone screen as they scroll through the app, creating stronger engagement rates. Though Facebook's inclusion of the format is not yet as strong as Snapchat vertical video, their support indicates widespread adoption.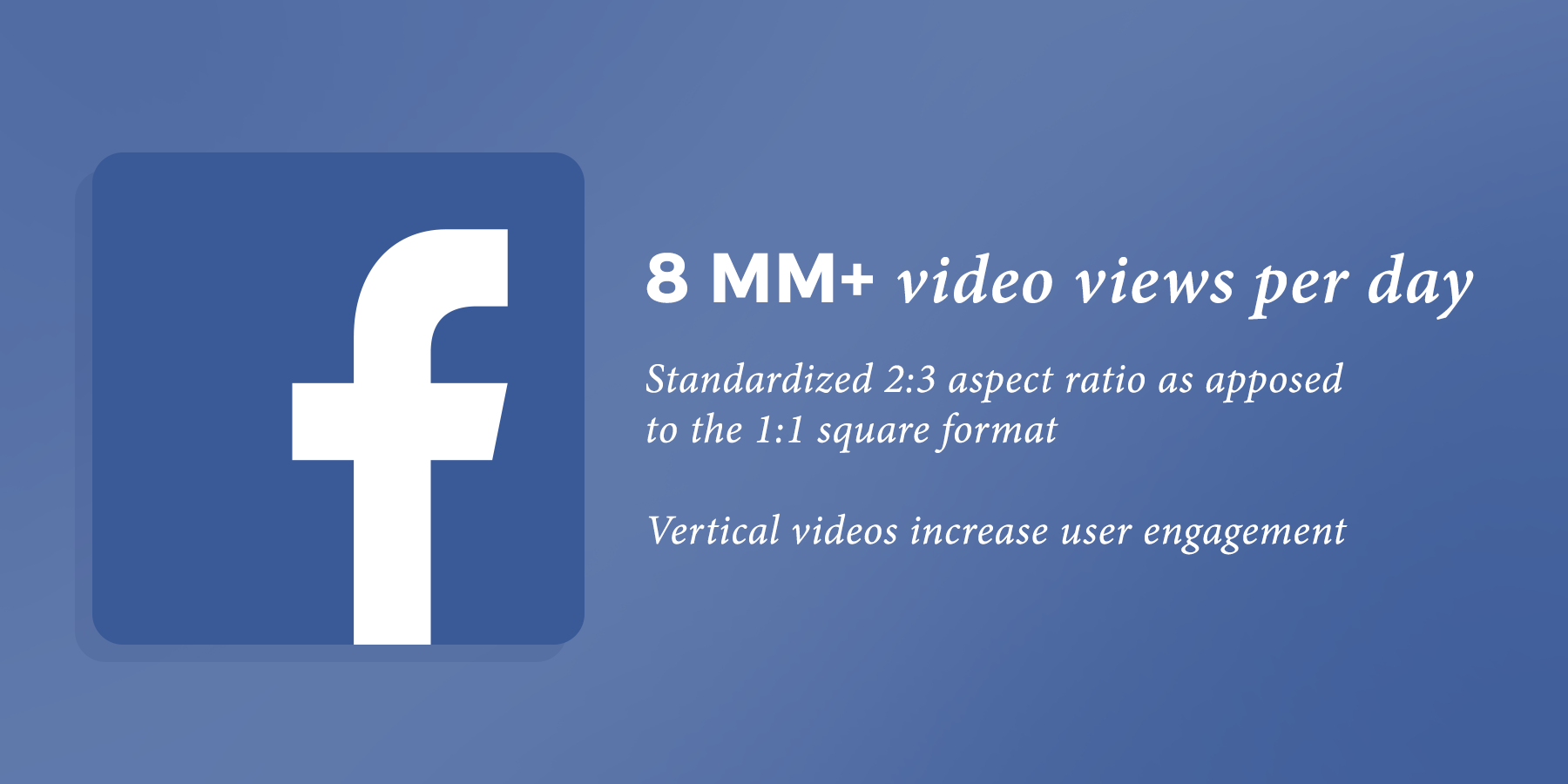 Early tests showed vertical videos to increase user engagement, specifically in relation to the likelihood of videos being watched with sound.
Last September, we got our first glimpse of vertical video ads on Facebook. Claims have seen more than 3X CPM with enterprise level accounts. In case you're not accustomed to social ad metrics, that's an impressive one.
The Snapchat Video Revolution
Here's another impressive stat… With over 150 million daily users, Snapchat claims over 10 billion video views
Snap Ads offer the best in mobile video ads with the choice to add an interactive element below. Snap Ads always begin with an up to 10-second vertical, full screen video ad that appears in the context of other Snaps.
While Snapchat's numbers are super impressive, the channel hasn't yet seen the mainstream marketing take of Facebook or Twitter.
Read the last sentence again. Done?
Now go market there.
Seriously, it's a gold mine for attention. Be careful when you do, though. The crowd isn't going to buy a shitty sales pitch.
Snap is about telling stories, make sure you know yours and have something interesting to share.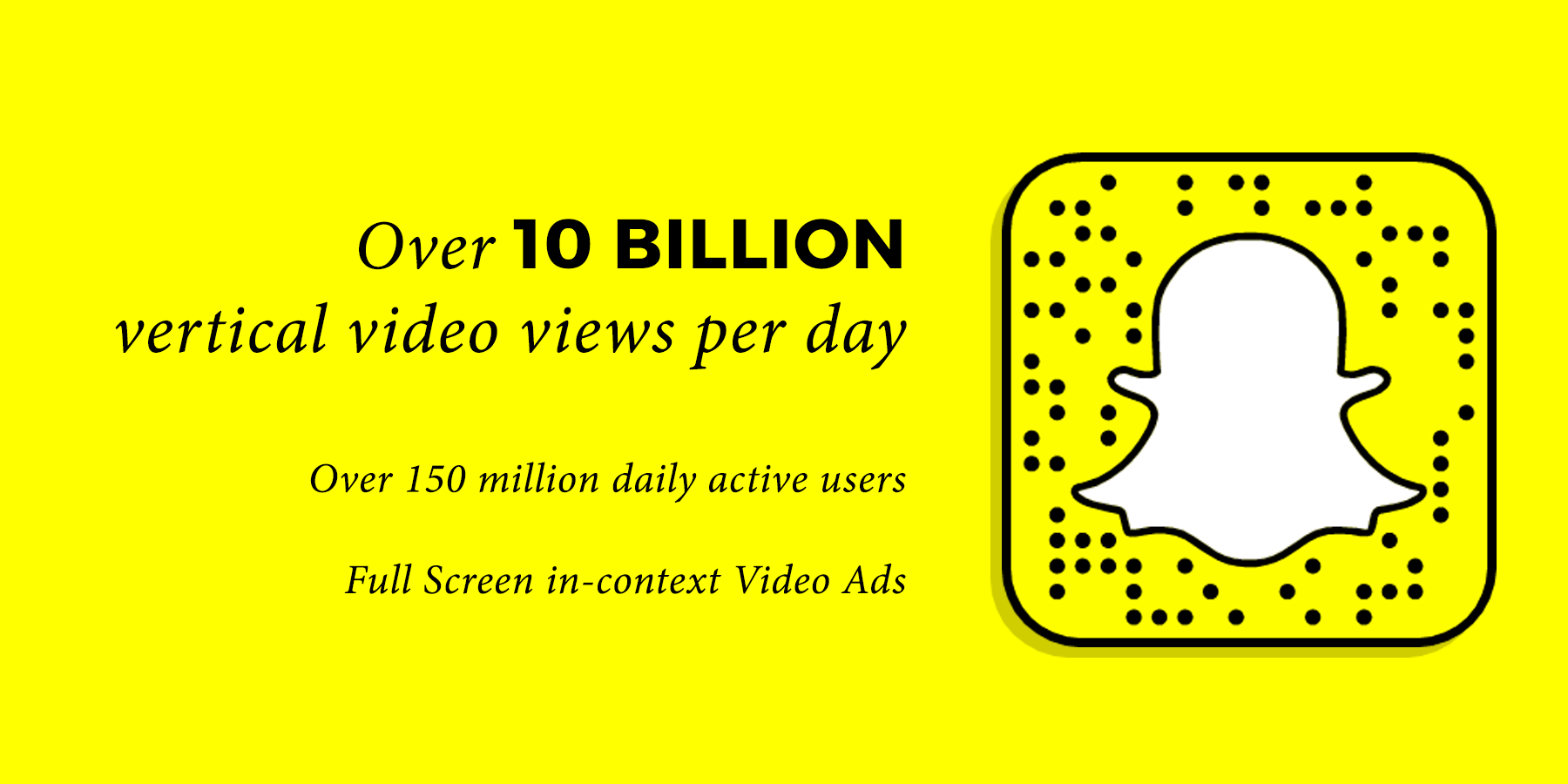 Twitter and Periscope Live Video
Twitter and it's live streaming video app Periscope have gained some traction this past year.
While the Periscope doesn't have quite the user stats of Snapchat, it's format and engagement have played a part in the rise of vertical video syndrome. The app has been live (pun intended) for about a year and a half now.
Periscope originally launched with support only for vertically formatted video. It wasn't 'till about halfway through their existence that they started supporting horizontal video format.
Periscope provides user metrics in a slightly different format. They claim over 110 years of live video watched on the app per day.
The use the 'Time Watched' metric as a proxy for active user growth and interaction over time instead of counting videos viewed. It's an interesting metric in the live video broadcast world – hear their thoughts on measuring engagement on the Periscope Medium account.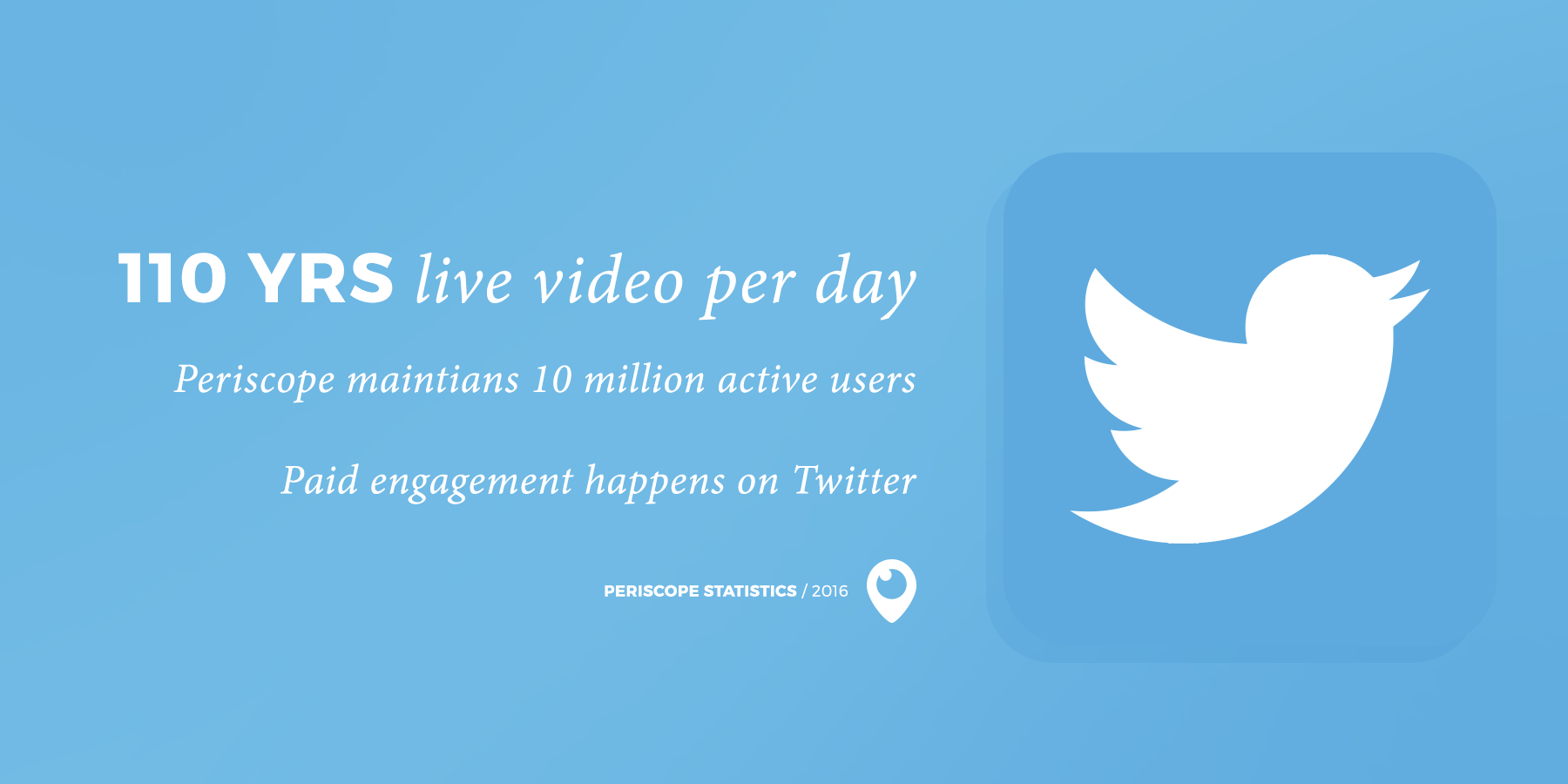 While the ' time watching' metric is interesting… Periscope boasts an underwhelming 10 million active users.
It's not the big Snapchat number above… or the other big one below… but if you're in need of a >>small<< group of people to share your vertically shot, live mobile video to, you know where to look.
(that's me being sarcastic, BTW – 10 million people is a great place to grow your audience
Advertising through Periscope is a little tricky currently.
Since your Periscope account is linked directly to your Twitter account, the paid engagement actually happens on the Twitter side.
The app combo is certainly worth pursuing – or at least testing – so long as your brand has mastered the previous mediums.
Instagram Vertical Video Formats
Instagram is owned by Facebook in case you weren't aware. Zuckerberg, Systrom and the crew have been hard at work making sure the apps remain competitive with emerging social apps.
Specifically, ones claiming over 10 billion video views per day.
No better place to grab inspiration, right? Check this article for a creepy comparison of Snap to IG Stories app features.
This past year Instagram launched a heavy arsenal of new features. While the app originally only supported the 1:1 square image and video formats, 2016 saw some variation brought into the mix. Arguably because they knew the vertical format would be a must have in order to compete.
With the addition of Instagram Stories and Instagram Live, the new video format claimed proverbial shotgun in the apps front seat. And with over 300 million DAILY active users, riding shotgun in Instagrams whip
Let's recap what we just discussed…
Why vertical is quickly becoming the dominant video format
Facebook garners 8 billion video views per day and started supporting native 2:3 video format
Snapchat gets 10 billion vertical only video views per day
Periscope live broadcasts are measured in years watched – with 110 years worth of video watched per day, mainly in the vertical format
Instagram has 300 million daily active users and gave vertical video the indefinite shotgun
The takeaway – there's a ton of people watching videos in the upright position.
So many, in fact, that marketers should be prepared to include the format into their production book and spend money promoting it on social channels.
Advertising in vertical format will be the norm in the very near future.
Get started soon and do it often.
Vertical Video Syndrome isn't going away. So the next time you're at a concert, don't be ashamed to hold your phone vertically. You'll probably get more engagement on it.